Salvage of the S.S. Golden Gate
by Andrew Czernek, aczernekATcomcast.net
The lure of the Golden Gate and its $1.4 million in gold is so strong that a legend has built up around it in Manzanillo, Mexico. It is said that Playa de Oro still sees an occasional gold coin wash onshore.
But thoughts of salvage began as soon as reports came in of the ship's sinking. When the Golden Gate ran aground it was only 300 yards from shore; as she burned to the water line and broke up portions of the ship and its cargo came even closer. Captain W.W. Hudson commented on the possibilities of salvage in his written report to the company the day that he and the survivors were rescued, July 29.
Beyond the $1.4 million in gold, passengers lost thousands of additional dollars that were left with the ship's purser or taken off in sacks or money belts in haste. Money had just started appearing in paper bills in the east, but these western passengers all carried their money in gold and silver coins. Many left the ship with money belts tied about their waist -- quickly abandoned in the water because of the weight. Much of the money washed ashore to create "Playa de Oro" came from this source. Roman Rivera Torres, in his book "Legend of the Golden Gate" published in 2003, estimates that gold in the purser's storage may have equalled that being shipped by Wells Fargo, or an additional $1 million.
The steamer Active almost immediately went to Manzanillo from San Francisco to try to recoup the gold on-board, which had been insured by four different companies. Heavy surf and shifting sands made it impossible on the first attempt.
San Franciscan William Turkington also went to Manzanillo to search for remains and valuables of victims. He was back in San Francisco via the steamer Uncle Sam at the end of the 1st week in September.
By the end of 1862 both New York and foreign underwriters had been to the scene of the wreck attempting some salvage. Before sailing, the Daily Alta California listed the underwriters of the gold as Indemnity Mutual Insurance, Marine Insurance Co., Royal Exchange Insurance Co. and London Assurance Co.
Those efforts failed, but a San Francisco native, both Thomas J.L. Smiley and a man named Irelan mounted expeditions and managed to salvage an estimated $300,000 of the gold in early 1863, which was shipped to San Francisco onboard the Pacific Mail steamship Constitution.
For his efforts, Smiley was prosecuted in San Francisco. The cases, both civil and criminal, pitted Capt. Francis W. Lodge, a representative of Lloyd's of London, against Smiley. Lodge's letters with documents from 1863-1865 are rich with details of the salvage and eventual settlement. They were added to this site in 2009 thanks to Kim and Robin Paterson, who forwarded their great great grandfather's journal and later additional correspondence.
By the end of August, 1864, the charges against him were dropped in return for payment of $40,000 to Lloyd's of London. Lloyd's also settled with Irelan for $7,000 earlier in 1864. Then, in December, 1864 Smiley mounted another expedition aboard the ship Commodore.
1903 Salvage Effort
The lasting effect of the Currier & Ives lithograph was that memory of the lost treasure lived on. A Boston contractor named C.W. Johnson visited the site and saw what a visitor would see today: a sandy beach location with treacherous currents and winds. Johnson's solution was to build a pier for dredging equipment and in a May, 1903 Popular Mechanics article he claimed to have pulled $1 million from the site.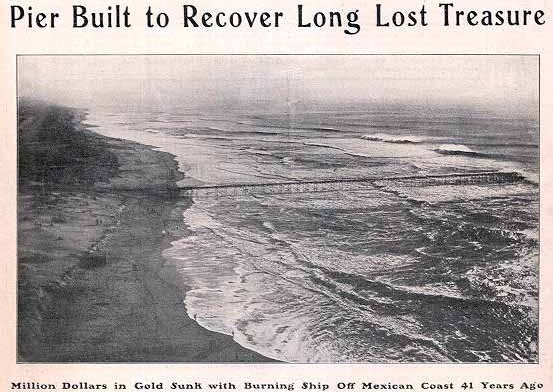 The 1903 Manzanilla salvage pier, soon destroyed by a hurricane
Joe Kelly Hughes, a diver involved in later salvage attempts, notes that, "shortly after the picture was taken, a hurricane knocked it down and all was lost; we actually recovered many of the pumps and other equipment that had been mounted on the pier."
1931-32 Salvage Effort
New information emerged in early 2008 with the discovery of an archive of documents from 1931-32. Mining engineer Charles Pouliot mounted the effort, along with an attempt to find stolen treasure from Spanish bullion shipments that were said to be hidden in caves. Pouliot's documents maintain that $1.2 million was salvaged from the S.S. Golden Gate by 1863 -- and another $330,000 by the end of 1863, causing his group to cease any further exploration of the shipwreck.

Pouliot seems to have been unaware of the efforts 30 years earlier by C.W. Johnson.
Later Efforts
With the invention of compressed gas diving and scuba gear, local divers continued to visit the wreck and take off pieces of the ship.

Jorge Sosa, of Neptunes Diving in Manzanillo, reports that the White Rock in the survivors accounts is called "Pena Blanca" locally. It's still the end of the Playa de Oro.

Sosa notes that "Records in Manzanillo are non-exsistant, claimed to have been lost over the years due to various hurricanes and earthquake. Though I did find a childrens coloring book in Spanish, called 'Puertas de Oro,' which told the story of the Ms. Manchester who held on to a floating chest until she was saved. The information for this coloring book, came from a thesis completed by a local Ph.D from the University of Colima."

The beach area continues to be rough, Sosa notes, changing quickly from tranquil to 20' waves. The wreck site is adjacent to the current Manzanilla Airport. Evidence of the wreck is gone, though local stories say that as late as the 1960s a man named Veralman salvaged an amount of gold from the site and used it to build a hotel called The Posada. Sosa notes that it is possible that the ship came ashore near Pena de Torecillo (pictured on the intership page of the Neptunes Diving website).

Revision: 6/6/2023